Cup of Coffee: October 28, 2020
The Dodgers are World Series Champs for the first time in 32 years
Good Morning to the World Series Champion Los Angeles Dodgers.
Good morning to you readers, all of whom can read today's newsletter for free, because it's got some very important stuff in it that, in my view, needs to not be behind a paywall.
To that end: a far less good morning to Rob Manfred and those in charge of Major League Baseball's coronavirus protocols who, as we'll discuss in today's Daily Briefing, seem to have thrown all of them aside in order to allow a player who either tested positive for COVID-19 or at the very least should've been treated like he tested positive to participate in Game 6 in defiance of even the pretense of medical responsibility.
If you're new here, and you're inclined:
Or, if you see fit:
Thanks.
And now on with the show. And folks, it's a hell of a show today.
First, the baseball.
---
And That Happened
Dodgers 3, Rays 1: How many World Series championships is that for the franchise?
Seven, that's right. Thank you, Vin.
This one, on the whole, was a pretty enjoyable World Series, all things considered. Not that it went without a hitch. A big, coronavirus-shaped hitch, actually, which we'll get to in the Daily Briefing. But first, let's talk about the game. And in talking about the game, we have to talk about the big decision on which it turned.
Do not, under any circumstances, let anyone tell you now or in the future that criticizing Kevin Cash for pulling Blake Snell in the sixth inning — only to see Nick Anderson come in and give up a double, a run-scoring wild pitch and a run-scoring grounder to give the Dodgers a 2-1 lead — was "second-guessing." It was first-guessing. Every single person on my timeline last night was howling at Cash for pulling Snell when he did.
And not just because Snell was absolutely shoving. It was because he was shoving AND because the next three guys he was scheduled to face that inning — Betts, Seager, and Turner — were a combined 0-for-6 with six strikeouts to that point.
Oh, and if you're going to yank Snell, bringing in Nick Anderson was not exactly the wisest choice. The guy had pitched in nine postseason games before last night and had given up runs in seven of them, including the previous six in a row. Due to last night's performance he is now first pitcher in postseason history to be charged with runs in seven straight postseason appearances. If you wanted someone to wake up Mookie Betts and Corey Seager, Anderson was your most obvious huckleberry.
Dave Roberts usually gets the flak for over-managing his bullpen in the postseason — and his decision to yank Wood for Báez in the fifth was questionable itself and seemed premature — but nothing compares to Cash taking Snell out of the game when he had been so thoroughly dominating Dodgers hitters, only to replace him with a guy who hasn't dominated anyone or anything for some time.
Well, one thing compares:
Maybe it was not quite that egregious, but it was the same energy.
Bottom line: at some point you throw out the book and let your best players make you or break you. That point comes in the sixth inning or later of a World Series elimination game, that's for sure. Cash messed that up. He's gotta wear it.
Am I right, Mr. President?
Sorry. Couldn't help myself.
Anyway, for as much chatter as Cash pulling Snell caused, it didn't end the game, of course. It only made it 2-1 after six. And that "1" was a much bigger problem for the Rays than whatever happened with the pitching. You're not gonna win many 1-0 World Series games in this day and age. The Rays' bats going ice cold last night was what truly sunk them.
Big ups for the Dodgers bullpen finally figuring out this bullpen game stuff. And for Dave Roberts for not getting overly cute with it after that Wood/Báez swap. Julio Urías was locked in. On another night Roberts maybe pulls him after the eighth to give Kenley Jansen a clean ninth inning, but leaving him in here was the right choice, again, even before we knew what was going to happen in the final inning. Which was a perfect 1-2-3, of course.
And how about Mookie Betts' homer in the eighth?
Icing on the cake for an amazing season after an astounding trade and a massive contract extension that will keep him in L.A. for a long, long time.
Betts now has his second World Series rings. Don't cry for the Red Sox, though. They have a lot of financial flexibility. Maybe, one day, in the next 40 years, they'll be able to use it to develop or acquire a player as good as Betts. Maybe.
I'll have all season to piss off Red Sox fans about that, though. For now, let's give big ups to the Los Angeles Dodgers for finally winning a World Series after all of these years of regular season dominance. Let's give them and baseball big ups for even getting through this farkakte season when there were moments that many of us — your newsletter writer included — didn't think they'd manage.
The Daily Briefing
Justin Turner left Game 6 due to a positive COVID test
Justin Turner left the field late during Game 6 last night. He wasn't pulled for a defensive replacement. He was pulled because of a positive test for COVID-19. It was a startling development, announced before Rob Manfred even handed over the World Series trophy. And it only got more confusing as the night went on:
The initial report, from Jeff Passan, was that Turner and the Dodgers — and Major League Baseball — received "inconclusive" test result during the second inning of last night's game and that, later, the re-test came back positive at which point Turner was removed from the game;

Just before 1:30AM Eastern time, however, Ken Rosenthal contradicted that report. According to him, the test result that was received in the second inning was not "inconclusive." It was positive. Then it was retested and, again, came back positive, after which Turner was pulled;

Other reports, closer to 2AM — notably from Bill Shaikin of the Los Angeles Times — said that the second inning test was, as Passan said, "inconclusive."
Question: does it matter? Because every single COVID resource I can find, including information from multiple state health department websites, AND from an early morning conversation I had with an immunologist and infectious disease expert who is a subscriber, says that, in practice, "inconclusive" results should be treated as presumptive positives. What's more, as Trevor Bauer detailed in August during a video he posted after himself receiving an "inconclusive test," he would be required to be held out until he had an affirmatively negative test. If that was the process for "inconclusive" tests for MLB players in August, why was it not the protocol for Turner last night?
Which is to say, even if Rosenthal is technically wrong, and it was "inconclusive" and not "positive" the protocols should've been the same, yes? And Turner should've been out of the game. But he wasn't.
Why? Is it because, in this case, MLB just decided not to enforce the rules? According to Rosenthal, it sounds that way:
"Why [Turner] went on the field when he had tested positive. That is an excellent question. And my understanding from various people is that he was told not to go on the field."
But he did. And that decision was not up to him. Or the Dodgers. And it was not in the discretion of Major League Baseball. There are — or were — hard and fast rules about this. There are detailed, negotiated medical and safety protocols in place and they do not include "if the player wants to keep playing, he can."
Why was Turner allowed to play? I cannot think of any answer to that question that does not, by necessity, prioritize baseball considerations over pandemic protocol considerations when Major League Baseball's entire 2020 season was, allegedly, premised on the prioritization of the latter over the former. On "an abundance of caution" as the cliche went.
But that's not the only question I have. Here's another: rather than just talking about when Turner was pulled, why was the game allowed to continue after Turner's positive test came back after the second inning at all?
All season long, whenever there was a positive COVID test, even if it came in hours and hours before game time, the game was banged "out of an abundance of caution" as a result of that test. Here, a game in which a COVID-positive player participated for nearly three hours was allowed to continue after his positive test was discovered. That strikes me as far less than "caution."
Major League Baseball should not only state why Justin Turner was allowed to play with an inconclusive/positive test. It should state why they did not stop the game and immediately isolate and test everyone with whom Turner came into close contact the moment the positive test was known. And no, "because we wanted to get the World Series over with without controversy and hassle" is not an answer that comports with "caution" even if that was the real answer.
I will not hold my breath for whatever answer MLB may offer, but it's a question that should and would be answered by any institution which claims that it takes this pandemic seriously.
Not that it seemed to take any of this seriously last night, even after the game was over and Turner was widely known to have tested positive for COVID: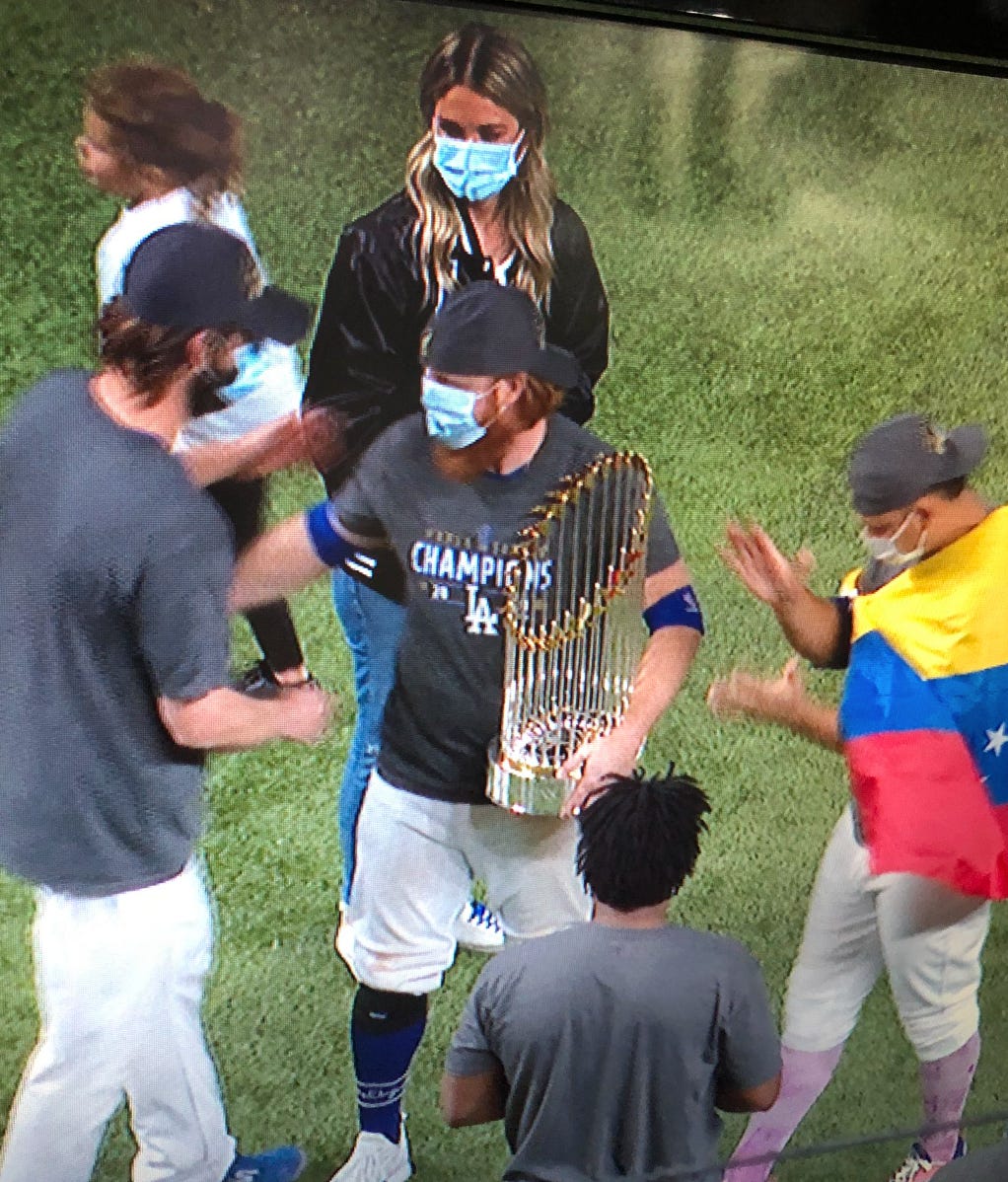 Major League Baseball will attempt to bury this in the white noise of the offseason. Do not let them.
A bit more about MLB's alleged debts and losses
Yesterday I said a lot about Rob Manfred's ill-timed claim about Major League Baseball's alleged losses and debts in the face of the pandemic. The two big takeaways: (a) Manfred dropping that on the eve of Game 6 of the World Series shows how tone-deaf he is; and (b) given MLB's historic distortion and obfuscation of its teams' financial status, his words are not to be taken at face value.
But let's assume, for a moment, that Manfred's claims are at least roughly accurate. In that case my response is: so what?
Did you notice that Manfred did not provide any details whatsoever about where that $8 billion in debt came from? Is it all new debt? Is part of it — most of it? half of it? — debt that clubs already anticipated carrying this year? How much of it was truly incurred unexpectedly due to the pandemic? How much of it was carried-over debt from, say, the initial purchase of the team or past operations? How much of it was pre-planned indebtedness for 2020?
What was the borrowed money used for? Which entities took it out? If it was the Braves, did the money go to its baseball operations or to cover losses at their real estate development, the Battery? In the case of other teams was it for the team itself or their regional sports network? Angels owner Arte Moreno spent $150 million to buy his team's ballpark from the City of Anaheim. Did debt finance it?
Oh, and perhaps most importantly, what was the interest rate on that debt? When does it have to be paid back? Is this long-term or short-term debt? I owe like $189,000 on my house. If I had to pay it back next Thursday, I'd be in deep trouble. I actually have another 24 years to do it, though, so it's not something I think about too much. Where does Major League Baseball's debt stand on all of this?
Unless or until Manfred or the owners reveal that kind of information, the debt figure is utterly meaningless as a means of assessing how bad off MLB is due to the pandemic, and the fact that Manfred would just throw that out there with zero details is, frankly, insulting to our intelligence.
Let's break it down further, though.
Manfred's claimed $8.3 billion in debt works out to around $277 million per team. Considering baseball's baseline of around $10.7 billion revenue during normal years and considering every team's skyrocketing value even during the pandemic — the Mets are selling right now for $2.5 billion — that's not a ton of debt, all things considered, is it? Especially at current interest rates, which are at historic lows. If a team has $277 million in low-interest debt over many years, is itself an asset worth five to ten times that, and will, eventually, ramp up to annual revenue of $300+ million once this passes, that's not a terribly arduous debt load. Certainly not compared to other businesses at the moment. By the ratios, Major League Baseball is way the hell better off than, say, AT&T, Ford Motor Company, Verizon, Comcast, AB InBev and a host of other businesses.
It's also worth noting that some entities even find debt preferable right now. Apple has cash reserves of like $200 billion but still has $90 billion in debt. Apple could, like the billionaires who own these baseball teams, dip into its cash reserves to cover every possible expense and then some, but it doesn't, because borrowing is almost free right now and allows them to use their cash for other, more lucrative acquisitions. Which, by the way, is what owners are doing with their money too. How else do you think they're all getting in so deep in the real estate game?
As for the claimed operating losses of $3 billion — which, again, are to be doubted because Manfred will not show the books and baseball always lies about its losses — that breaks down to about $100 million per club. Again, that's a lot, but against revenues, team values, and cash reserves of the equity holders, it's pretty easily survivable. At least if you do not consider "not making record revenues year-after-year-after-year" the absolute baseline of what is acceptable.
Manfred is issuing press releases, basically, without showing any of his work. He's doing it because he knows that most of the baseball press and baseball fandom will uncritically parrot his "we're $8 billion in debt" and "we lost $3 billion last year" talking points from the other day and cite it as "earlier reports." Don't believe it. Don't let him just assert those figures as a talking point and don't let him simply assert that talking point as a conversation-ender.
Don't do it because, even if he's not lying about those numbers — and I suspect he is deep into heavy fudging here, actually — he is not painting a picture of an industry in peril. This is not the restaurant business or even the film industry here. He's painting a picture of one that simply had a bad year.
Just because Major League Baseball's owners are used to printing money does not mean that a momentary glitch in their printing press is a national crisis. And we should let Rob Manfred or team owners portray it as such.
A.J. Hinch, Alex Cora, about to be welcomed back
With the World Series ending last night, the suspensions of former Astros manager A.J. Hinch and former Red Sox manager Alex Cora are officially over. In The Athletic, Andy McCullough, Britt Ghiroli, and Marc Carig write about how baseball, generally, seems ready to welcome them back with open arms. Or mostly open arms. Somewhat open arms?
It's complicated, with many people inside the game they spoke to voicing concern, as they do not believe Cora and Hinch have paid a sufficient penalty, even if they have served their punishment. There is some comparing and contrasting going on in there about how taking back the leaders of teams who had team-wide cheating scandals is different than a guy who took PEDs in isolation and then returns after his suspension. It's an interesting discussion.
Among front office people, they write, there is "a resigned pragmatism," with executives realizing that Cora and Hinch will be back eventually. Of course, given that it's the front office people who will be the ones hiring them, I'm not sure if "resigned" is an appropriate descriptor. They're the ones with agency here. It sure makes them seem reluctant, though, and I guess that's the image they want to convey when hiring guys who will probably, get them results, ethics be damned.
Some — including current players and managers — feel like Hinch and Cora served their time and that the bigger problem is that they took almost all the hit for a scandal that was perpetrated by scores of players and team officials.
Personally, I think it's kind of nuts that so many are "resigned," to use the article's word, to Hinch and Cora returning.
There are only 30 Major League Baseball manager jobs and there are way more than 30 people who could fill them, I reckon. That's especially true in an age where, unlike in the past, managers are not expected to be singular talents with unteachable instincts. They're expected to be team-players who can carry out the front office's game plan and communicate clearly both up and down the chain while maintaining workplace morale. Those kinds of skills are not easy to master, but they're nowhere near as rare as unique genius. You'd think that, of the many people who could likely do that, you'd want to hire someone who hadn't blatantly besmirched the very integrity of the game. But maybe that's just me.
If I had to guess, though, I think both of them will be back in dugouts next spring. I put even odds on the Red Sox hiring Cora back. I think Hinch will get strong consideration from the White Sox and Tigers. Given their emerging young talent, those might be good jobs to have, too.
I suppose I'm resigned to it.
Great Moments in Political Pandering
Former president Obama was in Orlando, Florida campaigning for Biden yesterday. Did he pander? Oh yeah, he pandered:
"I don't know if we've got any Tampa Bay Rays fans here in Orlando. Big game tonight. It's do-or-die time. The last time the Rays were in the World Series in 2008, Florida sent me to the White House. The Rays fell just a bit short then, but, here in Florida, Democrats fell a little bit short in 2016 also. Over the next couple of weeks, Florida, you've got the chance to fix two mistakes. You've got the chance to set two things right. You can bring a World Series championship to the Sunshine State, and you can send Joe Biden and Kamala Harris to the White House."
I guess since California is a safe state there's no downside to that. And that's the case even if Harris lives in Los Angeles and probably has photos of her wearing Dodgers gear floating around someplace. In the end, of course, it mattered not a lick — the Rays lost — and will matter not a lick for the election next week.
Not that I begrudge the pandering. It's almost quaint. It makes me nostalgic for a time when we used to care about silly little things in elections such as which candidate roots for which baseball team as opposed to, say, what might happen if the semi-authoritarian incumbent attempts to commit a coup via voter suppression and the weaponization of a politicized judiciary.
Steve Cohen to be approved as the new Mets owner on Friday
Major League Baseball owners will vote on the Mets' ownership transfer on Friday, the New York Post reported. The transfer from the Wilpons to Steve Cohen is expected to pass easily. I figure Jerry Reinsdorf or someone will say no, but he'll be approved.
Once the owners vote is done the only thing left will be the approval of New York City Mayor Bill de Blasio who, due to the city's lease of Citi Field to the Mets, gives him the right to veto it under certain circumstances. He's not expected to do that. God, that'd be totally nuts if he did, though.
---
Other Stuff
Say It Ain't Contagious World Series-Election Special
On Monday night I had the privilege of participating in Part V of the "Say It Ain't Contagious" seminar series on baseball and society. This was a World Series and Election Special. The first 35 minutes was baseball, the rest was mostly election stuff. The video of the entire thing is below. Or you can watch it here.
Some insightful, if at times, harrowing election stuff, I might add. That should be expected given that our organizer, Columbia University Professor Lincoln Mitchell, has been researching, writing, lecturing and opining for the past three years+ on the possibility of Trump refusing to leave office if he loses and all of the disruption and chaos that might cause. Oh, and one of my other co-panelists, Tova Wang, is an expert on the subject of voter suppression, so that's fairly anxiety-inducing at this particular moment in time. Tova, though, is not as pessimistic as you might think on that score.
Overall, though, it was mostly just an eye-opening, enlightening, and thought-provoking couple of hours. We do these roughly once a month, by the way. If you didn't manage to join us, I really hope you can join us next time.
The baseball/sex analogy is passé
Madeleine Holdman of Mel magazine wrote an article in which she attempts to figure out if the old baseball/sex analogy — first base, second base, etc. — is something young people still talk about. The upshot: they're mostly familiar with it, but no one really uses it anymore. And not just because some old baseball reference is not as important in an age where baseball has lost most of the cultural currency it once had.
A bigger reason it's out of fashion is because the idea of sex progressing station-to-station, if you will, is itself outdated. Today's youth culture is a way more sex-positive culture than people my age or even a bit younger were exposed to in the 80s or 90s. People, even very young people, do all kinds of things that are not captured too well by the old terminology. They may start on third base to begin with. They even may pull a Rubén Rivera and dart all around the bases with no apparent plan:
I mean, if that's what they're into.
It's also worth noting that any step-by-step sexual hierarchy that assumes standard male-female intercourse to be the end-game is, by definition rooted in heteronormativity. What happens when running out of the baseline is on the table, eh? What happens when one's sexual preferences are closer to cricket, rounders, Australian rules football or curling than baseball, hmm?
More broadly, though, thinking about sex like a sport is dumb no matter how you approach it. The idea of offense vs. defense or one side trying to beat the other one is profoundly messed up when applied to sex, is it not? Puritanical, even, based as it is in assumptions that the man is trying to advance around the bases while the woman is supposed to stop him or be defeated (or pretend to be in order to make the guy feel OK about himself).
It's almost as if we shouldn't be using analogies or euphemisms for something as basic as sex in the first place.
Just one more thing . . .
As most of you know I like "Columbo" and I talk about it here whenever I watch an episode (there will be more of that once the season is over). I'm not weird or unique in this. "Columbo" and a couple of other 1970s-era shows like "The Rockford Files" have been having a nice little renaissance over the past year or two. They're comfort food. When a crisis is afoot, people yearn for simpler times.
In the New Yorker, Joe Dator wrote up a little cartoon yesterday explaining his love for "Columbo" and why he thinks the how is having a moment right now, as some might say. I think it's pretty spot-on.
Wait for Spring? Nonsense!
And with that we head into the offseason. Take it away, Rogers:
Actually, shut up, Rogers. That's the dumbest, most overused quote in baseball. There's all kinds of stuff to do in the offseason and certainly a lot of stuff to talk about. My longtime readers know this already. Newer readers? You'll soon learn that, at least from the narrow perspective of daily writing, sometimes the winter is even more fun.
Thanks for joining me for Free Wednesday, everyone. If you think the sort of stuff I went on about today is something you'd like, I'd ask that you consider taking the subscription plunge:
Or maybe consider sharing it with friends who you think might like it:
Thanks, all. See you tomorrow. Hopefully I'll see some new faces behind the paywall.