Discover more from Cup of Coffee by Craig Calcaterra
Everything you need to know about baseball before your first cup of coffee
Over 16,000 subscribers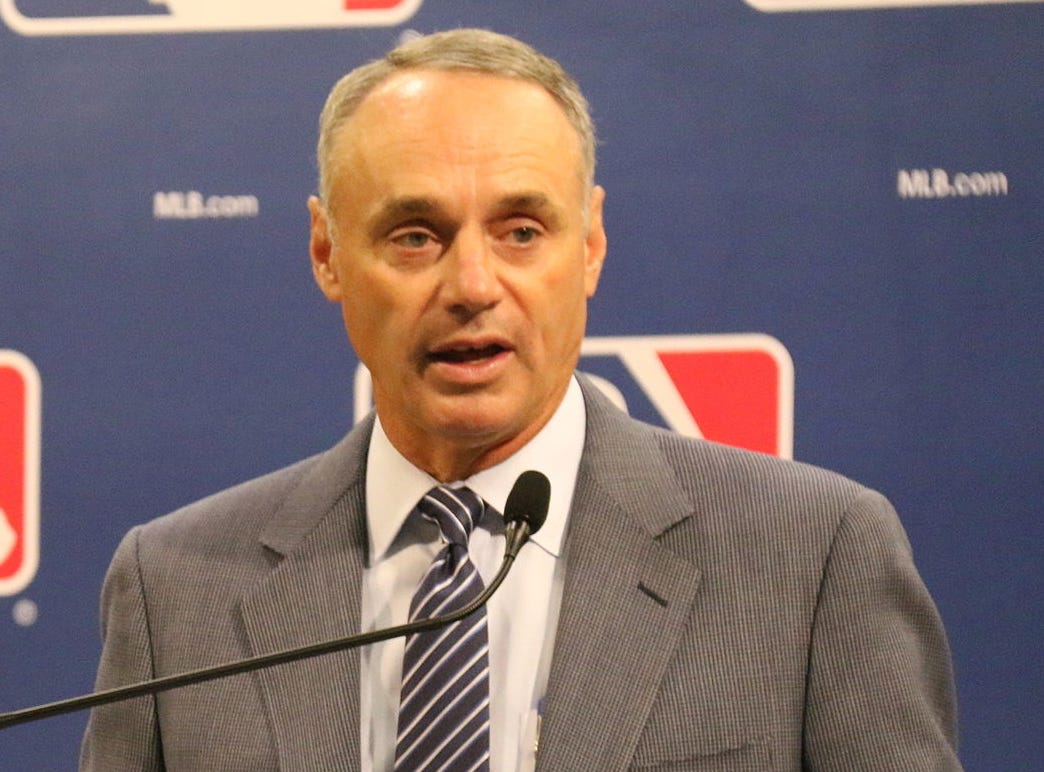 Today's newsletter is free to all. Most will not be. But they will all be of this quality, so if you like what you see today, please consider subscribing:
Last night was an extraordinary night in Major League Baseball. I can't think of any other way to put it. It was an evening in which Major League Baseball's lack of leadership and baseball's inability to understand or accept the feelings and the will of its athletes and the prospect of them exercising their own power was on full display.
It started with multiple teams choosing not to take the field in protest of the shooting of Jacob Blake. The Athletics and Rangers, the Phillies and Nationals, the Twins and Tigers, the Red Sox and Blue Jays, and the Orioles and Rays all decided to walk off the job last night. Some because they affirmatively voted to do so, some because their opponent did. It sort of doesn't matter. Well, it matters in one additional case we'll get to in a moment, but that's what was going on.
Then we get to the Mets and Marlins, who were scheduled to play in New York. Mets players voted to sit the game out, which led to a suggestion by . . . someone . . . that the players engage in a rather empty symbolic gesture in which they walk off the field and then come back an hour later and play the game. Why? Because that someone thought that rescheduling would be a hassle and because there was "so much at stake." In playing a Marlins-Mets game of all things.
We know about this because Mets GM Brodie Van Wagenen was caught on a hot mic and a recording camera trashing the scheme which, in the video, he claims was Commissioner Rob Manfred's idea:
In case you could not hear it all, here's the transcript:
Van Wagenen says Manfred was concerned about the schedule and there being "so much at stake." He, apparently, had no concern at all for the players and their feelings in all of this. As such, the video stood as a damning indictment of Rob Manfred's inability to comprehend the moment, his inability to lead, and his hostility toward players and what matters to them. Van Wagenen's statement — "At a leadership level he doesn't get it. He just doesn't get it" — is the sort of thing that could serve as Rob Manfred's professional epitaph.
Except . . . Van Wagenen later changed his story, making an extraordinary statement that it was his boss — Jeff Wilpon — not Manfred who made the suggestion:
This was followed by an official statement from Rob Manfred:
"Over the past two days, players on a number of Clubs have decided not to play games.  I have said both publicly and privately that I respect those decisions and support the need to address social injustice.  I have not attempted in any way to prevent players from expressing themselves by not playing, nor have I suggested any alternative form of protest to any Club personnel or any player.  Any suggestion to the contrary is wrong."
And, finally, was followed by statements from both Fred and Jeff Wilpon, trashing their own general manager and, notably, not taking any responsibility for the suggestion that now, officially, was the responsibility of Jeff Wilpon:
Note that the Wilpons spell their own GM's name wrong multiple times. Also, query: how is "misunderstanding" something "inexcusable?"
The likely answer: Rob Manfred was incensed that Van Wagenen was caught trashing the idea that the Mets and Marlins engage in empty symbolism on camera and Wilpon's anger was at the same thing.
Either way, I'm not sure that I believe Van Wagenen's reversal or Manfred's denial. I suspect that it was Manfred's suggestion, not Wilpons, and that all of what followed was damage control.
Part of my reluctance to believe it are the incentives in play. Jeff Wilpon and his dad are selling the Mets very soon and will not be Van Wagenen's bosses for too much longer. Manfred, meanwhile, is under contract through 2025. If Van Wagenen wants a future in baseball, it'd be way worse for him to have pissed Manfred off than his short-timer boss, Wilpon. To that end I can totally envision a scenario in which Manfred was incensed at Van Wagenen getting caught on that video bad mouthing him that he reamed him and told him to make it right, somehow.
But I suppose I don't know that. I just know what they're all saying now. However implausible that it was.
I also know that the Mets and Marlins took the field a little after 7PM, led by Dominic Smith — who was reduced to tears on Wednesday night over the plight of Black Americans and the violence and danger they face every day — and Billy Hamilton. All the players then came out of the dugout. The players took their hats off. There was a 42 second moment of silence, a Black Lives Matter t-shirt was left on home plate, and then they all walked off and . . . did not return.
Whoever's idea it was for them to come back did not get their way. They nevertheless did a fantastic job overshadowing the feelings, intentions, and gestures of the Mets players, who were trying to put the focus on the tragic destruction of Black lives at the hands of authority, all in the name of their own egos and fixation on baseball's bottom line, the schedule, and whatever it was they believe to be "at stake."
Then we have the Diamondbacks.
Their opponent, the Colorado Rockies, voted to sit out their game. In all of these situations the opponent has gotten on the same page and has said they supported the decision to sit out. Or, in some cases, voted themselves to sit out as well, making it a mutual thing. The Dbacks, however, released a strange statement, suggesting that they would've preferred to play:
That is pretty damn passive-aggressive. And it undercut their own players:
I can't imagine what the Diamondbacks were thinking releasing that statement. I do not know what they thought they were accomplishing in doing so. I do know, though, that it was pretty tone deaf and utterly failed to read the room.
Like I said: quite a night. A night which revealed just how difficult it is for the powers that be in Major League Baseball to let the players lead and speak their minds. How strongly they desire to police the time, manner, and place of protest and to prioritize the playing of games, on time, because "there's so much at stake."
If they continue to fight it, it's only going to make them look worse.
---
And That Happened
Here the scores. In which all action on the day came in the form of doubleheaders. I have to imagine that happened back in the train-travel era in which Sunday doubleheaders were a standard thing, but I can't imagine it's ever happened in my lifetime.
Here are the highlights:
Padres 10, Mariners 7; Mariners 8, Padres 3: If anyone ever asks if you there is such a thing as momentum in baseball, show them this doubleheader and say "nope."
In the first game, the Mariners led-7-3 heading into the bottom of the 7th and final inning. The M's recorded two outs in the bottom half and then, down to that last out, San Diego rallied for seven runs, capped off by Wil Myers walkoff three-run homer. That failed to carry over at all to Game two, though, where the Mariners' José Marmolejos hit a grand slam — the first of his career — and Shed Long Jr. also homered in a six-run first inning that carried Seattle to an 8-3 victory and a 2-1 series win.
Momentum schmomentum.
Pirates 4, Cardinals 3; Pirates 2, Cardinals 0: The firs game was tied at one heading to extras when the Pirates rallied for three in their half of the eighth with Cole Tucker driving in the go-ahead run and scoring. St. Louis plated two but fell short. In the second game Pirates starter Cody Ponce tossed five innings of shutout ball and Adam Frazier and Erik González hit RBI singles.
Dodgers 7, Giants 0; Dodgers 2, Giants 0: Clayton Kershaw continued his dominant 2020 season, shutting out the Giants for six innings. Austin Barnes doubled in two runs in the Dodgers' four-run fourth to go along with RBI singles from Joc Pederson and Corey Seager. A.J. Pollock homered. In the second game Los Angeles used seven pitchers in seven innings for a two-hit shutout backed by a Pederson homer and a Will Smith RBI double.
Reds 6, Brewers 1; Reds 6, Brewers 0: Sonny Gray shut the Brewers out for five innings in the first one while Jesse Winker homered twice and Nick Castellanos homered and went 3-for-3 with two RBI. In the nightcap Wade Miley combined with two relievers on a seven inning one-hitter, shutting out Milwaukee. Winker drove in another run here and Eugenio Suárez went deep.
---
The Daily Briefing
I had already planned on reaming Rob Manfred in today's newsletter for something that came out before last night's Mets-Marlins fiasco, so I suppose we can call this theme day. Here's that bit:
Rob Manfred is the Mike Trout of Tone Deafness
Rob Manfred sat for a wide-ranging interview with Bill Shaikin of the Los Angeles Times and, man, he was in rare Manfred form. Most notably with this question early in the interview:
What, at this point, is your definition of a successful 2020 season?

I think I would define a successful 2020 season if we make it all the way through the playoffs and manage to hand the World Series trophy to some lucky owner.
Isn't that what it's all about? Some billionaire hedge fund guy's big moment? Isn't that what you watch baseball for? I know it's what I watch baseball for. To see a guy who once bought a chain of appliance stores for the purpose of liquidating their inventory, firing their workers, writing off losses to offset tax liabilities, and then flipping the land on which the stores were built to a company building mixed-use developments hoist that World Series trophy mere days before he tells his GM to let the team's star right fielder walk in free agency in order to get under the luxury tax threshold. That, at bottom, is what the National Pastime is all about, and I'm glad to see baseball's top guy painting that picture for me.
Question, though: why would handing an owner just some "piece of metal" be a big deal?
Later Manfred was asked a detailed question about the Astros sign-stealing scandal. The question notes Manfred's statement last February that, while the Astros players faced no individual punishment for cheating, their having to play on the road in front of hostile crowds would be some form of punishment and asks if, in light of the lack of crowds this year, that changes his view of things. Manfred:
I'm not going to comment further on the Astros thing. I've said all that I have to say on that topic.
In a very narrow way I understand this answer. There's nothing he can really say about the Astros that will change anyone's minds. If he tries to, there's a good chance what he says might not come out right and might anger people, leading to a couple of days of headlines.
From a broader perspective, though, "the Astros thing" struck a nerve with fans and players in ways no event in baseball has for a very, very long time. People are still very angry about the scandal itself and the fact that only a manager and an executive was punished. It has colored a lot of people's feelings about the game.
Last February I wrote what, in my mind, I would say if I was in Rob Manfred's shoes and if I wanted to move past the sign-stealing scandal. He would never say anything like it, in part, because it required him taking some responsibility, but it's striking how, to Manfred, the sign-stealing scandal is just filed away, seemingly for good.
It's also striking how little effort Manfred makes, ever, to be something more than MLB's CEO. To be a leader or statesman in even a remote sense.
Bowie Kuhn was a total dullard, but he at least made a halfhearted attempt at it. Bud Selig was a shrewd and sometimes shady operator and dealmaker, but he spent the entire second half of his tenure putting on his Grandpa Baseball act in ways that at least sought to make people feel better about the game.
Manfred, though? Nothing. There simply seems to be no part of his consciousness which appreciates that, to a lot of people, baseball is more than a business he happens to run. That it's something greater than a vehicle for 30 business owners to turn a profit. It's this sort of thing that makes people ask if Manfred even likes baseball.
Which is why, I suspect, Shaikin then asked Manfred if he even liked baseball. Manfred's response: "There is no bigger baseball fan in the world than me."
You all can debate that if you'd like. I'm mostly hung up on how Trumpian that sentence construction is. It's like when the president says stuff like "no one has done more to fight COVID than me" or "no one loves Hispanics more than me." It's a lie, sure, but it's such an over-the-top, disprovable lie that you're in awe that he even offered it up. That awe staggers you and, before you regain your footing, he's on to something else.
Anyway, that was the last question of the interview. Thank you, Commissioner Manfred.
A potential Mets minority owner has something to say
As noted at the opening of today's newsletter I was not impressed by the current Mets' owners' handing of a touchy topic. Consider me way less impressed with the take of a potential new minority owner of the team:
He posted this right after liking an Instagram post which read "Free Kyle Rittenhouse!" referring to the young man who murdered multiple protesters in Kenosha the other night.
It takes most public figures an entire full-length TV news segment to simultaneously praise a cold-blooded murderer, insult a shooting victim and people protesting racial injustice, but Urlacher did it in like 50 words and a click. If he can bring that kind of efficiency to the Mets front office, they may finally get someplace.
Players Alliance to donate game salaries to combat racial inequality
In more enlightened news, The Players Alliance, a nonprofit group of 100+ current and former Black major leaguers players, said its current players are donating their game salaries from August 27 and August 28 to support efforts "to combat racial inequality and aid Black families and communities deeply affected in the wake of recent events."
We cannot stand idly by and wait for change✊🏾

Link in bio to join The Players Alliance in our movement.
Expect many who are not members of the Players Alliance to join in that effort. The first one I saw doing it: Kevin Goldstein, special assistant to Astros general manager James Click:
Kevin is also a former Baseball Prospectus writer and happens to be a friend of mine. Good show, Kevin.
Some trades happened
The Mariners traded pitcher Taijuan Walker to the Toronto Blue Jays for a player to be named later. Walker has a 4.00 ERA with a K/BB ration of 25/8 in 27 innings across five starts. He signed a one-year, $2 million deal before the season, returning to the Mariners, his original team, after an injury-plagued stint in Arizona. His prorated salary for 2020 is $720,000, around $350K of which is still owing.
The Rays acquired outfielder Brett Phillips from the Royals in exchange for minor league infielder/CEO of Wayne Enterprises, Lucius Fox. Phillips is hitting .226/.294/.387 in 18 games with Kansas City this season. Fox has been at the Rays' alternate site. Phillips, by the way, was the last guy left on the Royals who came over in the Mike Moustakas trade a couple of years ago.
The Pirates lose a trade chit
The Pittsburgh Pirates had a good night last night, taking both ends of a doubleheader from St. Louis, but they got bad news when they had to place closer Keone Kela on the 10-day injured list because of right forearm tightness. Kela was expected to be shopped by the Pirates in the runup to the Aug. 31 trade deadline. Welp.
He Who Shall Not Be Named
I tweeted this yesterday morning in response to the person described therein trending, once again, for saying something awful and inhumane:
I stand by the sentiment, but I gotta say, I laughed at the many, many people who responded by saying I was being too hard on Randy Winn and Wilson Álvarez.
---
Other Stuff
I do all of the cleaning, laundry, etc. around here and I pride myself on keeping a pretty decent house. Still, stuff slides and everyone cuts some corners now and again. That accumulates over time. So, when we got an offer for a really good deal for a one-time professional deep house cleaning, we decided to do it. The cleaners showed up at 8AM yesterday morning. I futzed around in the garage to to stay out of their way at first and then I retreated to the first room they completed: my daughter's Anna's room. I worked at her desk for the rest of the time they were here.
I love my daughter more than anything in the cosmos, but I gotta tell ya, the dark energy in her room is off the charts. I can't tell you exactly why that is the case — I share a lot about my kids publicly but it's crafted in such a way that I don't share anything of real substance about their personal lives — but you have to trust me. Even the Funko Pops are looking at me ominously. The couple of stuffed animals that have remained from her early childhood have undergone a complete deprogramming and now give off "what the fuck are you lookin' at?!" vibes. There's high strangeness, as they say in the world of the paranormal.
I managed to work through that — let's be honest, the girl is a lot like her old man, so even if she's on a whole other level and even if I'm softer than I used to be, it's not totally alien to me — but as I worked in here, I got to thinking about space and privacy and what it means to be a teenager. At least as far as I can remember what that was like.
Mostly it has me thinking about how that sort of thing — that "Do Not Enter!!" gestalt that embodies a teenager's bedroom — is different for kids whose parents are divorced. Unlike some parents who may be permitted to drop off laundry and otherwise never cross the threshold, I could be in my daughter's room because she was at her mom's yesterday. I can walk in and out and, though I don't do it, I could theoretically go through her stuff. And, of course, since this dynamic has existed for over half of her life, she knows that, so it's not like she's likely to leave herself vulnerable, however you want to define that, when she's not in this house.
But she's still a teenager and teenagers all have secrets and the need for private spaces, both physical and mental, and I am sure she still manages to create her own. She just has to do it in different ways, with the private spaces being more personal. Maybe even metaphysical. Maybe that's the energy I was picking up there. That of a sixteen year-old girl who cast a spell of invisibility and protection over her lair while she was away on other business. The sort of energy that renders an interloping father powerless, even if he wanted to pry and impose.
Kids are amazing. They're powerful. Don't even think of underestimating them or trifling with them.